10 Hour Ring of Kerry Day Tour
"There are only two kingdoms in this world, the Kingdom of God and the kingdom of Kerry"
Take the beautiful Ring of Kerry Day Tour with your own private chauffeur/guide from Chauffeur Ireland. Starting and finishing in Killarney drive the full circle of 160 Km  through, Killorglin, Cahersiveen, Waterville, Sneem and Molls gap. Boat trips to the Skellig islands also available from 11am each day in Portmagee but must be pre-booked.
Killarney town and national park, with the nearby Torc waterfall and Muckross house set in the Killarney National park is the perfect place to start and finish your tour. Also nearby is Ross castle the 15th century hold out of the O'Donoghue Ross chieftains.
Also available a boat rips on the lake, including a one way trip to Lord Brandons cottage, where your driver will be waiting to collect you (these trips need to be pre-booked)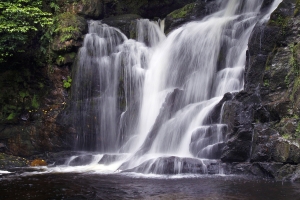 Daniel O'Connell was born near Carahan just outside Cahirciveen, in 1775.
In the centre of Cahersiveen you will find the Daniel O'Connell memorial church as part of the Ring Of Kerry Day Tour. Built between 1888 – 1902 this church is the most dominant feature/landmark in the town. It is one of the few catholic churches in the world dedicated to a lay person. It is constructed of Northern Irish granite (Co. Down). The laying of a marble slab which serves as the cornerstone took place in 1888. This marble block is very special as it was a gift from Pope Leo XIII sourced from the catacombs in Rome.
A lawyer and politician in 1823, O'Connell founded the Catholic Association. The aim of the organisation was to use all the legal means available to secure emancipation (freedom for Catholics). It turned into a mass crusade with the support of the Catholic clergy. All members of the association paid a membership of a penny a month (the Catholic rent). This helped to raise a large fund. The British Government feared a rising and granted Catholic emancipation in April 1829. In February 1830, O'Connell became the first Catholic in modern history to sit in the House of Commons. In 1841, O'Connell was elected Lord Mayor of Dublin

Derrynane House and gardens. Daniel O'Connell's ancestral home, it was his wealthy childless uncle who adopted him at an early age and brought him up at Derrynane.
The Ring of Kerry Day Tour has Options to take a boat trip to Skellig Islands, all sailings are from Portmagee at 11am and return approximately 3pm where your driver will be waiting for you. These trips need to be pre-booked and depend on weather and availability.
Waterville and The Charlie Chaplin Comedy Film Festival. The town was a favourite holiday spot of Charlie Chaplin and his family who first visited the town in 1959 and came back every year for over ten years. There is a statue of him in the centre of the village in his memory and an annual comedy festival is also held.
Staigue fort is one of the largest and finest ring forts in Ireland. On an low hill, commanding a view of Kenmare bay. The fort consists of a massive circular rampart surrounded by an external bank. The wall is up to 5.5m (18ft) high and 4m (13ft) thick, surrounding a circular area of 27.4m (90ft) in diameter. The most intriguing things about the fort is that there are ten flights of steps, built in an X shape, along the circular internal wall giving access to the top of the rampart. Dating of this site is difficult but it may have been built during the Celtic period 300 – 500 AD.
Molls gap & John Kissane Sheep farm. This stunning pass is a must see, with commanding views of the Killarney lakes and the MacGillicuddy reeks mountains. Also there is the option to visit with John Kissane and his working sheep farm, watch the sheep dogs put through their paces and if you want adopt a lamb.


(*) Entry to attractions not included in tour price unless stated.
This tour includes:
Driver/guide (1 person)
Luxury vehicle / Complimentary Wi-Fi

Complimentary water
Complimentary tour map with site details.
Advisable to bring:
Wet weather clothing
(Complimentary umbrellas available for use) Tour Information
10 Hour Ring of Kerry Day Tour
Tour Ref: CI10RKDT
Tour Price: €850
Tour Duration: 10 Hours
Tour Capacity: 1 - 6 Guests
Available From: All Year
Pick Up Point:Guest Hotel
Drop Off Point:
Guest Hotel
Kilometers Driven: 200 Km
Book Tour