10 Hour Galway City Day Tour
Visit Galway city and Eyre Square, view the modernist Galway Cathedral. Walk along Spanish Parade and hear the original Claddagh story. Option to take a cruise on Lough Corrib or maybe sail to the Aran Islands as part of the Galway City Day Tour.
The city takes its name from the river Gaillimh which joins the Atlantic sea and Lough Corrib, the Lough covers 176 km² and lies mostly in County Galway with a small area of in County Mayo. – Called Ireland's Lake District.
It formed the western boundary of the earliest settlement, which was called Dún Bhun na Gaillimhe ("Fort at the mouth of the Gaillimh). It is the fourth most populous urban area in Republic and the sixth most populous city on the island of Ireland with a population of over 75,000.

The Galway Races are known worldwide and are the highlight of the Irish horse racing season lasting seven days, the world's longest.
Sites to see include the Roman Catholic Cathedral of Our Lady Assumed into Heaven and St Nicholas, it is the youngest of Europe's great stone cathedrals, construction began in 1958 and was dedicated on 15 August 1965. Its rose windows and mosaics and romanesque portico were influenced by the city of Salamanca in Spain.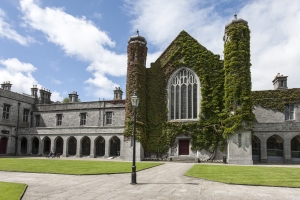 Eyre Square the main square (containing John F. Kennedy Park) and the Spanish Parade next to the Spanish Arch, built to protect the Quays, when Galway was a thriving Medieval port, in 1477 Christopher Columbus visited Galway.
Lynch's Castle on Shop Street / Abbeygate Street corner is probably the finest medieval town house in Ireland. (Very similar to the Rothe house in Kilkenny).
The Lynch Window, (on Market Street), commemorates that here, in 1493, the Mayor, James Lynch FitzStephen, hanged his own son for the murder of a young Spanish visitor. This event is advanced as the origin of the phrase Lynching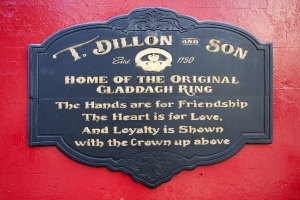 Dillon's Claddagh Gold on Quay Street are the original makers of the Claddagh Ring and are also Ireland's longest established jewelers, having been founded in 1750. The Claddagh symbols mean Heart = Love ; Hands = Friendship ; Crown = Loyalty.
The Village of Claddagh itself is an Irish-speaking enclave outside the city walls governed by an elected 'King'. Who has the privilege of a white sail on his fishing boat. The title is still in use but is purely honorary.
Regular passenger ferries operate between Galway port and the tourist destination of the Aran Islands and Doolin
(*) Entry to attractions not included in tour price unless stated.
The Galway City Day Tour includes:
Driver/guide (1 person)
Luxury vehicle / Complimentary Wi-fi
Complimentary water
Complimentary tour map with site details.
Advisable to bring:
Wet weather clothing
(Complimentary umbrellas available for use) Tour Information
10 Hour Galway City Day Tour
Tour Ref: CI10GCDT
Tour Price: €750
Tour Duration: 10 Hours
Tour Capacity: 1 - 6 Guests
Available From: All Year
Pick Up Point:Guests Hotel
Drop Off Point:
Guests Choice
Kilometers Driven: 250 Km
Book Tour