8 Hour Wicklow Day Tour
Take The Private Chauffeur Guided Wicklow Day Tour with Chauffeur Ireland around the Garden county of Ireland
The perfect way to get a great insight into Wicklow with a local Driver/guide from Chauffeur Ireland who will take you to visit:
Dublin's coast road  —  Dun Laoghaire  —  Dalkey  —  Lough Tay(Guinness lake)
Glendalough  —  Russborough house  —  Enniskerry  —  Powerscourt country estate
You can choose to enter any of the attractions but admission is not included in the price and may mean not all of the sites will be viewed. If you have other sites that you would like to visit your driver would be happy to oblige as long as it is within the tour time.
Leave Dublin with Chauffeur Ireland along the coast road, past through the towns of Dun Laoghaire a suburban seaside town with a large pleasure port renamed Kingstown in 1821 when King George IV visited. Then through Dalkey meaning "thorn island" by the Vikings, now home to writers and celebrities including Maeve Binchy, Hugh Leonard, Bono, Enya and Van Morrison.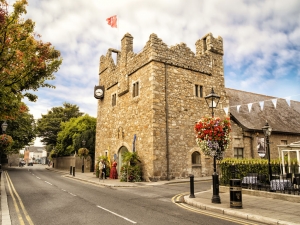 We then drive up through the mountains to Roundwood and the Vartry reservoirs by the Guinness lake (Lough Tay) and along the military road into Glendalough the valley of the two lakes renowned for its spectacular scenery, rich history and archaeology. It's a very beautiful, 6th Century monastic settlement, founded by Saint Kevin, with a round tower and lakes.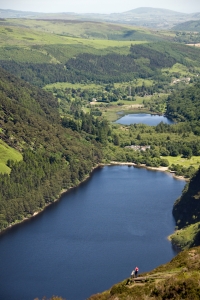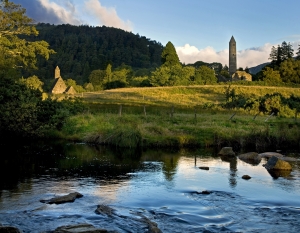 Then Chauffeur Ireland take's you on a drive across the Wicklow gap / mountains to Blessington and Russborough house Guided tour of the 18 th Century Pallidum style mansion.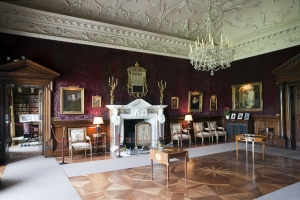 Back across the Liffey bridge and the Sally Gap to Enniskerry.(From each bower a flower and from each tree a cherry, He laid them down and built a town and called it Enniskerry) to Powerscourt country estate originally a 13th-century castle, extensively altered during the 18th century by German architect Richard Cassels. With gardens inspired by the palace of Versailles (home of the Slazenger family now). The house was used as a filming location most famously in Stanley Kubrick's Barry Lyndon. Nearby is the Powerscourt Waterfall, at 121 metres it is the highest waterfall in Ireland.

There are also many private gardens in the area open to visitors. Kilmacurragh Arboretum, the association with the National Botanic Gardens began in 1854. The milder climate, higher rainfall and deeper, acidic soils create a more advantageous zone for growing plants from the Himalayas Australasian, Mediterranean, South America, China and Chile regions. Hunting Brook Gardens near Blessington consists of five acres of amazing botanical herbaceous gardens and fifteen acres of wonderful woodland gardens and valley. Its position offers expansive views over the Wicklow Mountains. Jimi Blake its creator collects plants from his foreign expeditions and sources rare seeds globally. Gardenworld Kilquade near Bray.
Wicklow town founded 795AD by the Vikings with the Black Castle ruins overlooking the harbour and bay, which stretches for 12km. The town's most famous sons is Captain Robert Halpin,(the man responsible in laying the Atlantic cable) and builder of TinaKilly house hotel. Wicklow Gaol (a guided tour – 45mins) Wicklow's infamous jail built in 1702 and operational until 1924.
(*) Entry to attractions not included in the Chauffeur Ireland tour price unless stated.
This tour includes:
Driver/guide (1 person)
Luxury vehicle / Complimentary Wi-Fi

Complimentary water
Complimentary tour map with site details.
Advisable to bring:
Wet weather clothing
(Complimentary umbrellas available for use) Tour Information
8 Hour Wicklow Day Tour
Tour Ref: CI08WIKT
Tour Price: € 550.00
Tour Duration: 8 Hours
Tour Capacity: 1 - 6 Guests
Available From: All Year
Pick Up Point:Guests hotel
Drop Off Point:
Guests choice
Time In Car: 3 Hours
Kilometers Driven: 200 Km
Book Tour