8 Hour Dublin City Day Tour and it's Suburbs
Your Private Chauffeur Guided Day Tour of Dublin City and it's Suburbs
Dublin is Europe's 5th largest city so enjoy a short spin along the river and around the city centre including the Phoenix Park and St Stephens green areas and then drive out of town to see some of Dublin's beautiful suburbs as part of the Dublin City Day Tour.
City Centre  —  Phoenix park  —  A choice of North / West

or

South Dublin county
*You can choose to enter any of the attractions but admission is not included in the price and may mean not all of the sites will be viewed. If you have other sites that you would like to visit your driver would be happy to oblige as long as it is within the tour time.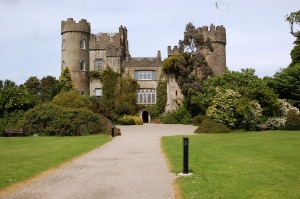 If you choose to go NORTH we can visit Clontarf and the beautiful Casino Marino a playhouse built for the 1st Earl of Caulfield to entertain his guests. Then onto the beautiful fishing villages of Howth or Pormarnock for lunch. We continue northbound along the coast road out to Malahide, with its famous Castle dating from the 12th century (Tour – optional). Depending on time restraints we have a choice of Loughshinny village and Skerries water and wind mills (Tour available) or Ardgillan Castle (Tour & Gardens) a magnificent 18th century ascendancy mansion with beautiful views over Dublin bay.

If

you choose SOUTH we will drive out of the city centre along the Coast road, the same walk taken by Leopold Bloom in James Joyce's Ulysses.  Stopping to enjoy Dunlaoghaire, with its grand piers and sailing clubs and the nearby Joyce Tower (open 365 days a year). We can continue onward to the affluent suburb of Dalkey, home to many of Ireland's wealthy, famous and wonderful personalities, U2 and Van Morrison to name but a few. With lovely hideaway eateries and an entertaining Castle tour available, Dalkey is typical of modern suburban Dublin. If time permits on our return to the city we can call into Johnny Foxs in the foothills of Dublin Mountains or the Paidraig Pearse museum in Saint Endas school where he taught up until the 1916 rising(Tour available).

If you choose

WEST your driver will continue on out through the Phoenix park, visiting the Official visitor residence of the Irish state Farmleigh house where Presidents from all over the world have stayed. Continue along the river Liffey through the picturesque Strawberry beds perhaps a stop at The Anglers rest for Lunch. On to Castletown house and the option of touring the biggest Palladium mansion in Ireland which dates from the mid 18th century. Nearby is Carlton house now a luxury 5 star hotel but originally the official country residence of the Earls of Kildare. There are many further sites to see in the area with Celbridge town home to the original Guinness factory and Maynooth village with its 12th century castle and the first Catholic university in Ireland founded in 1795.

(*) Entry to attractions not included in Dublin City Day Tour price unless stated.
The Dublin City Day Tour includes:
Driver/guide (1 person)
Luxury vehicle / Complimentary Wi-Fi

Complimentary water
Complimentary tour map with site details.
Advisable to bring:
Wet weather clothing
(Complimentary umbrellas available for use) Tour Information
8 Hour Dublin City Day Tour and it's Suburbs
Tour Ref: CI08DSUB
Tour Price: € 550.00
Tour Duration: 8 Hours
Tour Capacity: 1 - 6 People
Available From: All Year
Pick Up Point:Guests hotel
Drop Off Point:
Guests choice
Time In Car: 4 hours
Kilometers Driven: 120 Km
Contact: Brendan Walsh
Book Tour